I Girl Noodle is a restaurant that serves ramen soup. It is affiliated with the Zodiac Corporation as it is part of its Subsidiary. I Girl Noodle used footage from the trial featuring Chieri in Episode 14, to advertise and promote their ramen. In the last part of the commercial, the footage with "Chieri" with her back faced away from the camera eating the ramen was not really her.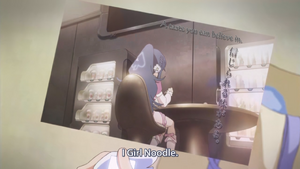 Ad blocker interference detected!
Wikia is a free-to-use site that makes money from advertising. We have a modified experience for viewers using ad blockers

Wikia is not accessible if you've made further modifications. Remove the custom ad blocker rule(s) and the page will load as expected.