Hi, welcome to AKB0048 Wiki! Thanks for your edit to the Nagisa Motomiya page.
Please leave a message on my talk page if I can help with anything! -- WhiteRibbon (Talk) 02:45, May 3, 2012
I also noticed that! :3 I don't know if it's just for artistic effect or if it has some kind of meaning, but did you notice they also have little hearts in their eyes too? WhiteRibbon 19:57, May 9, 2012 (UTC)
Re: About the release dates
Edit
Thanks for that. I was wondering what they were, since there have been no announcements about a foreign release. WhiteRibbon 16:10, May 14, 2012 (UTC)
Re:Episode 3 summary and possible bounties on AKB0048
Edit
Sorry for not working on it, I've been too lazy right now plus I'm also watching Revolutionary Girl Utena x) As for the bounties, that's a good idea, I never thought about it. I won't add it to the wiki though unless it becomes official :) WhiteRibbon 15:56, May 16, 2012 (UTC)
Re: New information
Edit
I've successfully been able to translate it, but now I need to organize it.
I'll get to work A.S.A.P.
Ok, so here's just a snippet of what I found out.
First, I found out the D.G.T.O stands for Deep Galaxy Trade Organization.
Also, Kiraras have been discovered along with an element called (Deyuariumu?).
More coming soon.
I was looking at the pictures, and they weren't in the trailer. How do you get advanced pictures before the episode really airs?
These pictures came from the official japanese of AKB0048 and the credits for the photos goes to User:TakaMina.
Ichigo kurosaki1979 22:13, June 21, 2012 (UTC)
Becoming an Admin
Edit
Hi. If it's alright with you, I've decided to make you an admin, due to your hard work on the Wiki. I actually meant to make you an Admin earlier than this, I just didn't get round to it. c: WhiteRibbon 17:28, June 26, 2012 (UTC)
The Childs on Tundrastar
Edit
Hi! I saw you was create some page like Alyona,Vera, Gina and Nika. I read the article and it's mentioned that they're fans of AKB0048 in Tundrastar. But, there's no picture in that page. And.. i want to ask you: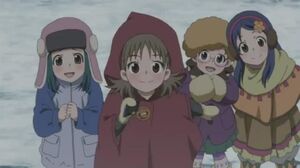 Do you know which is Alyona, Vera, Gina, and Nika? I'm curious about it XD
Dara-chan25 | talk | contributions 08:16, July 5, 2012 (UTC)
I think the one with the red hood is Alyona.
Ichigo kurosaki1979 11:40, July 5, 2012 (UTC)
Okay. thanks! :) Dara-chan25 | talk | contributions 01:49, July 6, 2012 (UTC)
I am planning to write the plots for episodes 7-12 when I have the time. However, that won't be for another week, since tomorrow I actually leave to go on holiday to Malta for a week, so unfortunately I won't be able to until next Wednesday at the earliest :c Is that alright? I'll still definitely write them! WhiteRibbon 15:49, July 30, 2012 (UTC)
Checking in
Edit
Hello,
I wanted to get in touch and see how things are going on your wiki. I am a staff member here at Wikia, and I noticed that your wiki was growing at a great rate but has slowed down recently. Did you run into an issue or is there something you need help with? We have lot of help on our community wiki, staff blog and in the help pages. We also run a monthly webinar series which you can find here. We will be focusing on how to create a great main page, so if you want to join next month you can register here. Growing a wiki can be a big endeavor, but it looks like you had a great start! Let me know any further help you may need so you can continue to be successful. Cheers, --Sarah
(help forum | blog) 20:40, September 17, 2012 (UTC)
i love akb0048 my dream is too be akb so will i112.198.77.93 01:27, October 6, 2012 (UTC)tgpfuna
Administration
Edit
Hello there. I came over from the Saki Wiki, where I am an administrator, to help you guys rearrange your wiki. Given the amount of in-universe material (especially new characters) being introduced in Next Stage and adding material from the multiple manga series, you will probably need some disambiguation structure. Would you mind adding me as an administrator here? Regards. Arsonal (talk) 12:04, January 13, 2013 (UTC)
Ichigo Kurosaki san, thanks 4 ur warm welcome! :D 
I noticed that Alyona gained 00 hearts in her eyes in ep 9, but at her later appereance, they weren't there!?
I wonder why, and I thought that they are supposed to be from birth and, well, don't disappear?
and I saw many of the chara profiles were a little outdated with the episodes...
Janetwinters10 (talk) 10:28, February 3, 2013 (UTC)